With 100 years of cherished hockey history behind them, les Canadiens have seen plenty of interesting choices when it comes to personal style. Despite a league-wide mandate forcing players to wear helmets, plenty of Canadiens' players have continued a storied tradition of maintaining a fabulous head of hair. Combing through the annals of Habs history, here is a selection of the players whose contributions to grooming go far beyond the mullet and may be just as profound as their work on the ice. Ok, maybe not, but what a classy-looking bunch.
Maurice Richard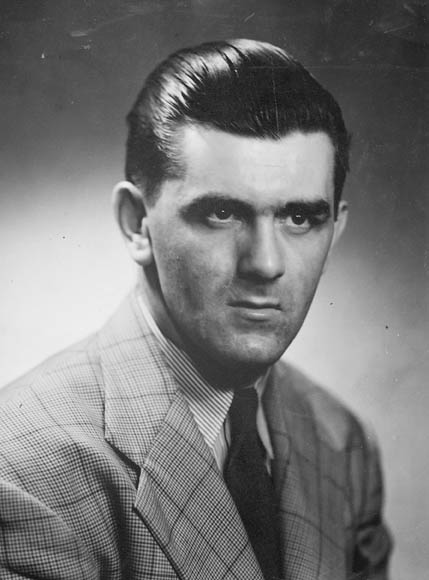 Those intense eyes, that jutting jaw, the unflagging willingness to run over anyone in his way. As a hockey player, Maurice "Rocket" Richard had a variety of assets at his disposal. As a patron of 1950s style, he also made his share of contributions. Perhaps none more than his jet-black slick of hair. With a generous dollop of pomade, Richard always looked the part of the greatest Canadian sports icon of his era. Still one of the most-popular French-Canadian athletes of all time, Richard's approach to grooming was consistent with his general approach to the ice: some style, all business.
Guy Lafleur
His hairline may have eroded over time alongside some of his skills, but the most-dominant forward of his time may not have been as iconic had he not had that flowing mane following him down the wing. That hair proved so iconic that it played a supporting role in the release of the Flower's 1979 disco record. As a disco singer, Lafleur was an excellent hockey player. But those flying follicles certainly helped. So much so that the Flower got a hair transplant in the 1990s. That's how much he needed the hair.
Larry Robinson
Guy Lafleur's hair may have garnered more headlines, but Larry Robinson was more than just one of the best defensemen of his generation. Before he adopted the buttoned-down closely-cropped look later in his career, the man known as Big Bird had a lot of fun with his appearance. That fantastic bushy hairdo partnered with one of the finest staches in sports history, culminating in an image on the blue line that was equal parts suave and toughness. The short-lived fu-manchu may have been the single-boldest grooming decision in Habs history.
Russ Courtnall
Courtnall became an instant fan favorite in Montreal after being dealt to the Habs in 1988 for enforcer John Kordic. His blazing speed and on-ice charisma endeared him to the Flying Frenchmen lineage. A gorgeous head of hair certainly didn't hurt. While the styles tended to change over the years, Courtnall generally tended to keep it long and let it flow. Not surprisingly, the player with the leading-man look eventually relocated to California with his family after finishing up his career in 1999 with the Kings.
Jose Theodore
Back in the earlier part of the 2000s, Jose Theodore was the unofficial mayor of Montreal. An MVP backstop for a fledgling Canadiens team, Theo quickly became the most iconic Habs player since St. Patrick. But let's be honest, folks. The man's head of hair was superb, which only further contributed to his superstar status in the city. And it wasn't by accident. A 2006 positive test for a banned substance was blamed by Theodore on his use of Propecia. So the man appreciates how important a good head of hair can be.
The Kostitsyn Brothers
They may have caused some Habs fans to pull out their own hair, but despite their inconsistencies, the flying Kostitsyn brothers never wavered in their grooming. Sergei may not have possessed big brother Andrei's on-ice skill or size, but his shaggy head scored him some points at barber shops all over Quebec. Andrei had a similar shaggy style early in his career, but his transition into a shorter style may indicate the emergence of a refined, mature Andrei. Either way, style seems to run in the family.